Software > Stopper
---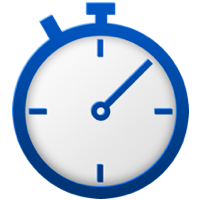 Stopper is a simple, yet powerful stopwatch and time-taking application. The original application was created in Java, but in 2014 the whole application was rewritten to native applications for Chrome, Mac OS X and Windows, and a lot of new functionality was added. The Windows version is not yet released.
Features of Stopper
NEW! Supports Mac OS X Notifications!
Enter timer time with your keyboard!
Support for timers up to 999 minutes (16,65 hours)
Stopwatch with lap times and 1/10 seconds.
Countdown timer.
Notification and alarm when countdown is finished.
Timer works when minimized.
Save times and lap-lists to HTML.
Name your timers/stopwatches.
System requirements
Chrome OS: A Google-account to download Stopper from the Chrome Webstore. Should work on all Chrome devices running version 36 or newer.
Mac OS X: An Intel-Mac with Mac OS X 10.7 Lion or newer. A separate download for older versions of OS X is available, but not officially supported.
Mac OS 9: Yes, it is actually now available for the classic Mac OS. It requires at least Mac OS 8.6 and a PowerPC processor. This version is not supported though, it was just made for fun.
Download
Download for Chrome OS (v. 1.1.5)
Download for OSX 10.7 or newer (v. 1.1.6, Recommended)
Download for older versions of OSX (v. 1.1.5, not recommended on newer Macs)
Download for Mac OS 8.6 - 9.2.2 (v. 1.1.6.2)
Screenshots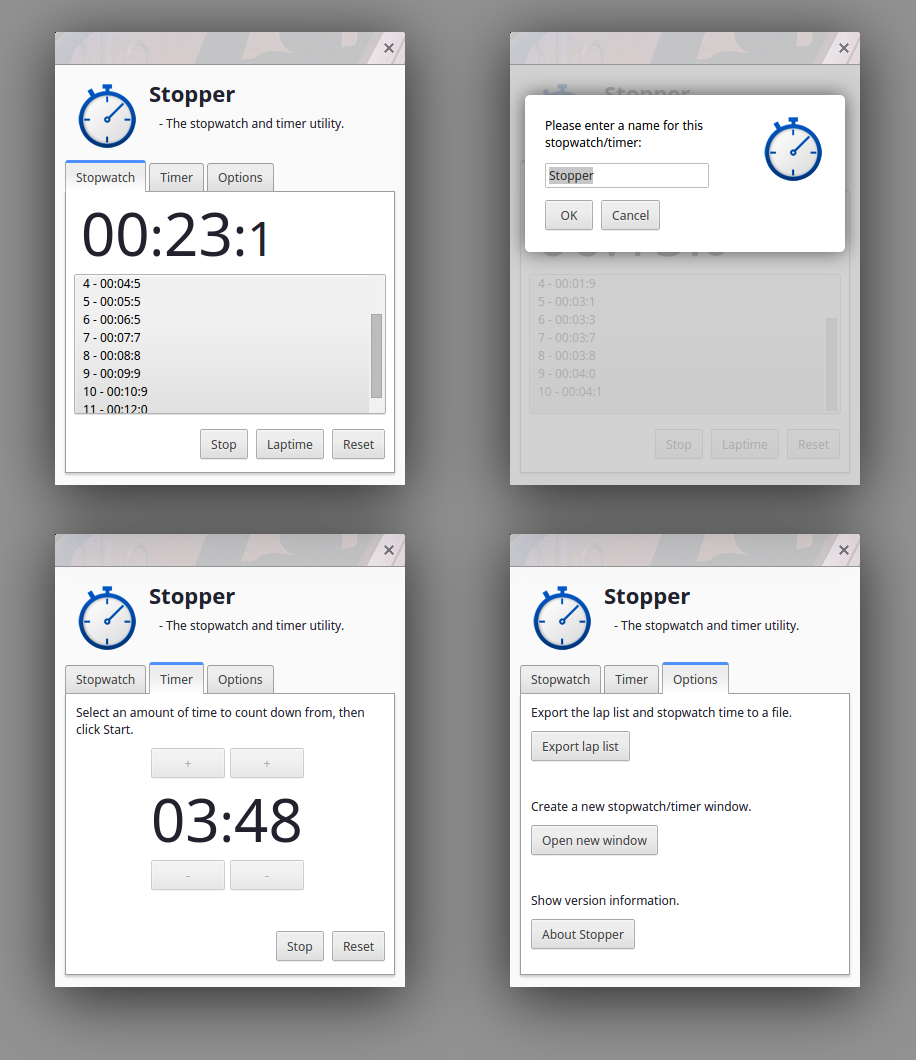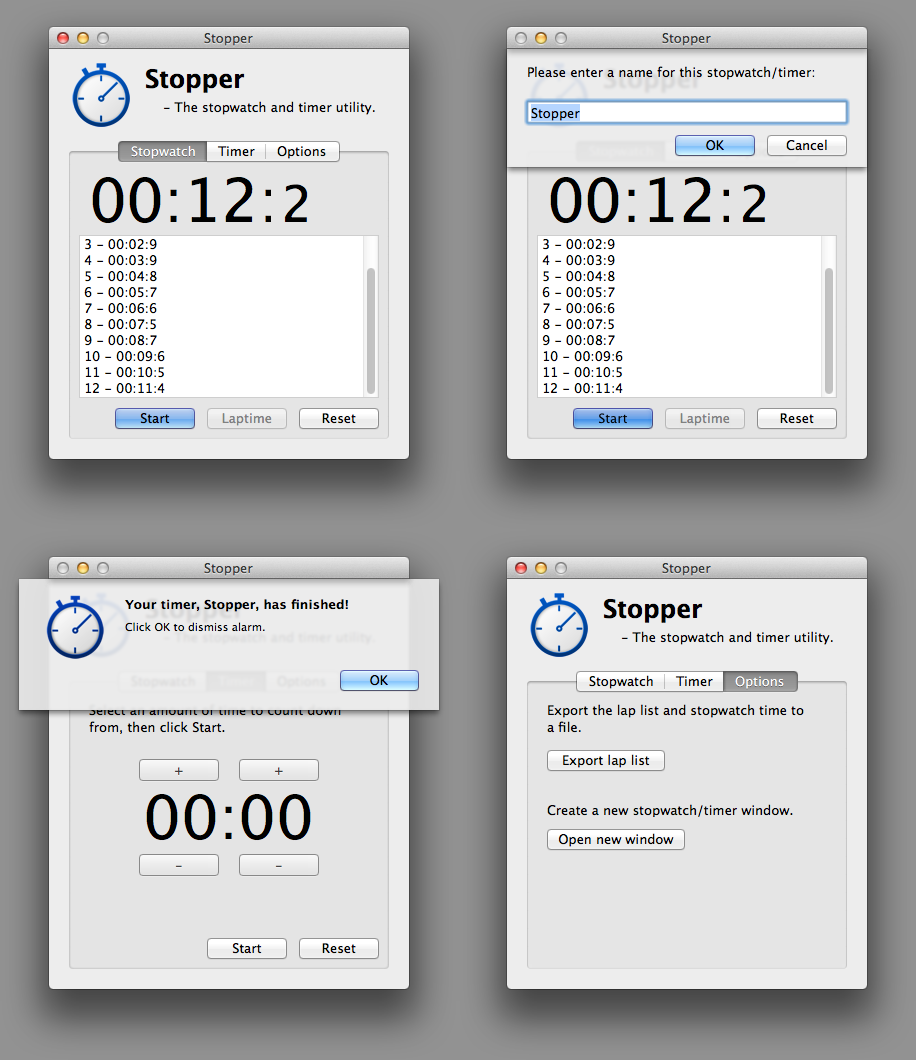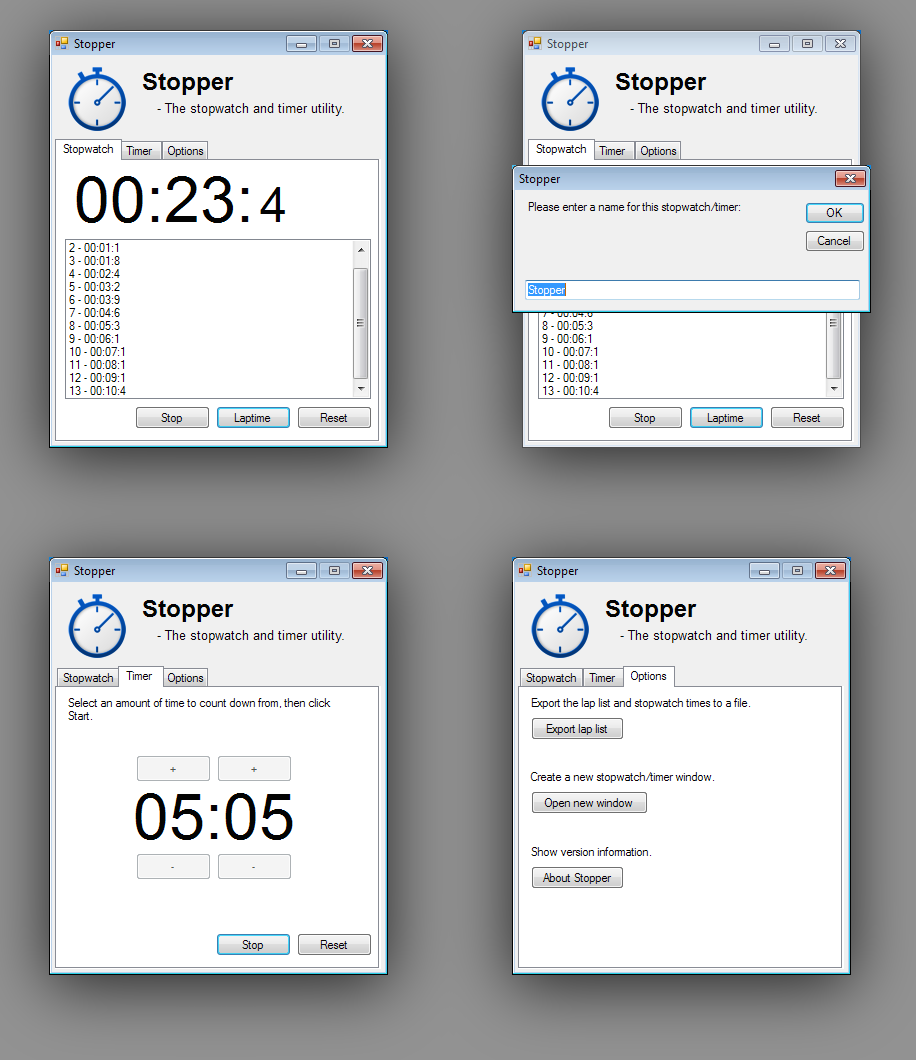 Screenshots from Mac OS 9
Known bugs
On OS X:
In the "older OS X"-version, when clicking on a menu item, or holding down a button in the window, the stopwatch and timer will freeze until the menu or button is unselected/released. This does not affect the "Lion and newer"-version.
If you are using OS X Maverics or newer, make sure to right-click on the app icon, select Get Info, and make sure that "Prevent App Nap" is checked.
On Chrome OS:
The stopwatch will not work properly when the application is minimized. This is due to a "feature" in Chrome OS to prevent inactive applications to consume system resources. It does however not affect the timer.