Software > WorkDay
---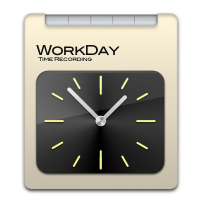 WorkDay Time Recorder is a time recording application that turns your computer into a time recorder. It is designed to mimic the functionality of a traditional time recorder used to track the hours worked by an employee in a company, but can be used to serve many different purposes.
Features of WorkDay
New in this version (0.3.2, March 18th 2016)
Bugfix: Fixed app crash if the system's clock is using . instead of : as separator. Common error in Windows 10 and Mac OS X El Capitan (and possibly Yosemite).
Other features includes:
Automatic checking for updates.
Organize your work in different projects/categories.
Timesheet printing and saving.
Choose how you want to round the hours.
Track breaks as well.
Allow users to change the working time after they've clocked out
Support for multiple users and password-protection.
Track working hours.
Show the total amount of hours you have worked.
Automatically generate time sheets for printing or saving.
Support for Windows and Mac OS X!
System requirements
Mac OS X: An Intel-Mac with Mac OS X 10.7 Lion or newer.
Windows: Windows Vista with Service Pack 2 or newer (.NET Framework 4.5.1. Required)
Download
Download for OS X 10.7 or newer (v. 0.3.2 Beta)
Download for Windows Vista or newer (v. 0.3.2 Beta)
Screenshots